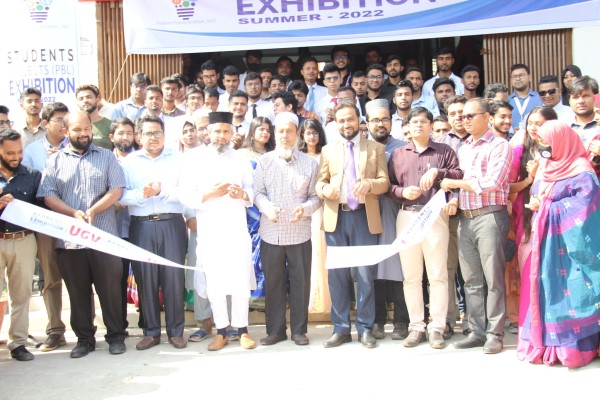 Project exhibition for Summer 2022 held at UGV, Barishal
University of Global Village (UGV) Barishal organized the day long Project exhibition fair for Summer – 2022 in the university premises on October 30, 2022 as an integral part of Project Based Learning (PBL). Problem-Based Learning (PBL) is a teaching method in which complex real-world problems are used as the vehicle to promote student learning of concepts and principles as opposed to direct presentation of facts and concepts. In addition to course content, PBL can promote the development of critical thinking skills, problem-solving abilities, and communication skills. It can also provide opportunities for working in groups, finding and evaluating research materials, and life-long learning.
The exhibition was organized separately for the students of their respective departments. 27 projects from Electrical & Electronics Engineering, more than 100 projects from Computer Science and Engineering, 20 projects from Civil Engineering, 2 projects from Mechanical Engineering and 30 Projects from BBA were exhibited.The live models of the project along with presentations and banners were exhibited enthusiastically by the students.
Chairman of BOT Dr. Md. Imarn Chowdhury, Treasurer Professor Dr. Syed Ali Molla and Registrar (In-charge) Md. Lokman Khan visited the project exhibition and discussed with students who were representing their projects and also gave good suggestions to them.
HODs, faculty and students also visited the project exhibition and interacted with the students. Three best projects from each department were awarded during the closing ceremony.